Today's sponsor spotlight is Kerri, from the blog,
Simplicity Interrupted
. One reason she is awesome is because we both have wonderful dogs named Stella! Take the time to check her out, I bet you will be glad you did!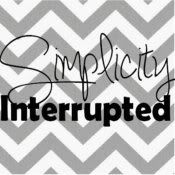 the rest of the time, i'm a doggie-mom to Stella,
a 5 year old lab/hound rescue & constant companion of mine ...
i'm the girlfriend of an amazing man,
who just so happens to be a (just as amazing) father of two ...
i'm a sissy to my beautiful & ridiculously smart older sister,
and an auntie to her two adorably goofy, giggly girls.
is my space to be creative.
recipes to tips & tricks,
from kids activities to fashion
it's chaotic & disorganized & messy.
but its beautiful & its in progress,
& stop trying to control everything.